[Previous entry: "Dresden Files to be TV show"] [Main Index] [Next entry: "Janine Cross - TOUCHED BY VENOM - Ugh (Preeti)"]
10/23/2005 Entry: "The Liaden Universe Collected"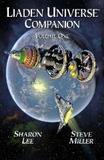 Do you love Sharon Lee & Steve Miller's "Liaden" stories but hate those flimsy, hard-to-shelf chapbooks? Introducing LIADEN UNIVERSE COMPANION, VOLUME ONE - the first in a series of collected Lee and Miller short fiction. Volume One contains all of the stories from the first five Liaden chapbooks plus a story - "King of the Cats" - that appeared in an anthology. SRM Publishers (Lee and Miller's small press) sold out of the pre-ordered hardcover, but the trade paperback is still available at $15.95 through SRM.
The stories:
-Where the Goddess Sends
-A Choice of Weapons
-Moonphase
-To Cut An Edge
-King of the Cats
-A Spell for the Lost
-A Day at the Races
-Breath's Duty
-The Wine of Memory
-Certain Symmetry
-Pilot of Korval
-Balance of Trade


See our reviews of the novels:
--TOMORROW LOG review page
--CONFLICT OF HONORS review page
--PARTNERS IN NECESSITY review page
--CARPE DIEM review page
--PLAN B review page
--I DARE review page
--CRYSTAL SOLDIER review page
--PILOT'S CHOICE review page
--BALANCE OF TRADE review page
Replies: 3 Comments
Is the volume of short fiction just like short stories and novellas, and the other review pages are for the full-length novels set in the world?
(I haven't read any of these books, but I've been thinking about it and I want to know where to start reading.)
Posted by Delia @ 10/26/2005 03:06 PM ET
---
You can read Conflict of Honors first as an introduction - it chronologically predates Agent of Change and the rest of that series. However, I enjoyed the books from Agent of Change and on much better (while the two characters in Conflict of Honors were awesome, the story just didn't seem to move as well as the others - not nearly as gripping.) The two stories in Pilot's Choice are set a generation earlier than the others, and again, are not as gripping. But fun to read just for a chance to see the roots of the story and people.
Bottom line, maybe try Conflict of Honors first so you can get a good introduction to the story, but if you occasionally find it slow going (it's actually a pretty good book) have patience - and then read Agent of Change. It's hard to put down.
Posted by maryanne @ 10/29/2005 01:00 PM ET
---
Delia, I changed the order we listed the stories and the novels in order to make it less confusing. And maryanne, my taste in Lee & Miller books is the opposite of yours: PILOT'S CHOICE and CONFLICT OF HONORS are my very favorite of all their books. Funny how that works.
Posted by Preeti @ 10/31/2005 06:46 PM ET
---