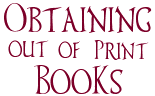 AddALL - "Used and Out of Print Search...Looking for hard to find, used or out of print books? Why waste your time visiting many sites? You can search all of them through AddAll by just one click."


Bookstore Junkies - A mailing list. We are a community of several hundred readers who try to locate each others' want lists of books (primarily paperback genre fiction) when we go to the used bookstores ourselves.


BookFinder.com - This is a book shopping search engine that scans bookseller databases to find new, used, rare, and out of print books.


BookSeek - BookSeek is an index to the on-line catalog pages of numerous book sites which are not listed at ABE, BiblioFind, or BiblioCity, and are otherwise unsearchable. BookSeek returns the catalog page of the searched-for item.


Basement Full of Books - This is a list of books (mostly OP books that writers have bought copies of from their publishers) available by mail directly from their authors.