[Previous entry: "ACADEM'S FURY by Jim Butcher -- As good as the first! (Linda)"] [Main Index] [Next entry: "Two fuzzy fun reads (Margaret)"]
01/27/2006 Entry: "Invisible Lovers and Victorian Magic -- Two reviews (Lori)"

Here are two books that are on the fast track to the movie screen. While neither is strictly romantic SF, they have intriguing fantasy and romance elements.
IF YOU COULD SEE ME NOW by Cecelia Ahern
I've also read IF YOU COULD SEE ME NOW by Cecelia Ahern which is sort of chick lit. It's about a woman who starts seeing her nephew's invisible (grown male -- they don't age physically, but mental age doesn't necessarily match their physical age) friend, but who doesn't realize that others can't see him. Invisible friends have purpose; they come when they are needed, and she desperately needs someone. But then they start falling in love. The book is supposed to become a movie musical, and the premise intrigued me. I wasn't blown away by the book, but the story does offer promise as a movie. This is the author's third book; she's supposed to be very popular. She's in her early twenties, and the daughter of the Irish Prime Minister. --Lori
***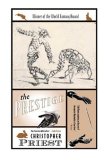 THE PRESTIGE by Christopher Priest
And THE PRESTIGE by Christopher Priest, they start filming it very soon. The premise is two magicians in Victorian London who get into a feud. The book won a fantasy award a few years ago, and apparently Christopher Nolan (who directed Batman Begins and Memento) was fascinated by it, but couldn't figure out immediately who to film out. Finally, his brother (who wrote the screenplay) figured it out. It's a complex book, with more than one person telling the story (it starts in the present, and goes back to the past). I think I need to read it again to pick up some things now that I know more. (There were some odd things in one person's narration that may have been explained later on. Or not. ) Cast is intriguing: Christian Bale and Michael Caine from Batman Begins, Hugh Jackman, David Bowie, Scarlett Johanssen, and possibly Andy Serkis (who played Gollum and King Kong, among other things). I recommend the book, but it's not a romance (though there is a bit of romance in it). Plus it's one of those books that can leave a very uneasy feeling. Has incredible potential for the movie. --Lori
-- IF YOU COULD SEE ME NOW at Amazon
-- THE PRESTIGE at Amazon