[Previous entry: "A Question for our Readers: LK Hamilton Vectoring"] [Main Index] [Next entry: "News from October 2005 Locus"]
10/09/2005 Entry: "Forthcoming Books -- Covers and Excerpts"

I updated the forthcoming books page a bit. It looks like the IRRESISTIBLE FORCES anthology--a must-have for the Lois McMaster Bujold story--is finally being released in mass market paperback format. I remember liking the tone of Jo Beverley's story too. Another cover added is for Sharon Lee and Steve Miller's CRYSTAL DRAGON. I still haven't read CRYSTAL SOLDIER (although others of us have), and here's the sequel listed at Amazon already. Actually, it's already available as an e-book. Read an excerpt from CRYSTAL DRAGON at Embiid books.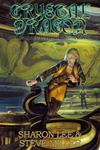 And here are links to excerpts from forthcoming books on author web pages:
--Anne Bishop's SEBASTIAN;
--Kelley Armstrong's BROKEN, which goes back to Elena's point of view;
--Rachel Caine's WINDFALL;
--a synopsis of Jacqueline Carey's KUSHIEL'S SCION;
--Dawn Cook's THE DECOY PRINCESS.
Release dates are all on the forthcoming books page. This should help you kiill some time!