[Previous entry: "Forthcoming Books -- Covers and Excerpts"] [Main Index] [Next entry: "Julie Czerneda's MIGRATION (Species Imperative Book 2) (Linda)"]
10/11/2005 Entry: "News from October 2005 Locus"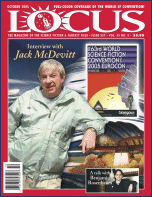 The October 2005 Locus features interviews with writers Jack McDevitt and Benjamin Rosenbaum and thorough coverage of this year's World Science Fiction Convention, InterAction, including color photos of the spectacular masquerade winners.
News which caught our eye:
--Suzette Haden Elgin has terminated her March 2002 contract with Wildside Press for reprint publication of her four "Coyote Jones" novel.
--Terry Pratchett sold WINTERSMITH, latest of the Discworld YA novels featuring witch-in-training Tiffany Aching, to HarperCollins Children's. Doubleday will publish in the UK. JOHNNY AND THE BOMB is being adapted as a three-part television series slated to air on BBC One in 2006.
--Vicki Pettersson sold THE SCENT OF SHADOWS and two more supernatural novels to Eos.
--New writer Brian Slattery sold SPACEMEN BLUES: A LOVE STORY to Roc.
--Kit Whitfield sold debut novel BAREBACK and a second book to Del Rey.
--British rights to Lois McMaster Bujold's THE HALLOWED HUNT sold to BCA.
--Rudy Rucker turned in MATHEMATICIANS IN LOVE to Tor.