[Previous entry: "Clare Dunkle's IN THE COILS OF THE SNAKE -- I hate, then reconsider (Preeti)"] [Main Index] [Next entry: "Forthcoming Books -- Covers and Excerpts"]
10/06/2005 Entry: "A Question for our Readers: LK Hamilton Vectoring"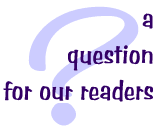 The first question went well, so here's another question:
Your friend loves Laurell K. Hamilton - who else do you suggest?
Replies: 17 Comments
What about Kelly Armstrong?
Posted by Rebekah @ 10/06/2005 04:11 PM ET
---
Tanya Huff's Vicki Nelson series:
Blood Price
Blood Trail
Blood Lines
Blood Pact
Blood Debt
Charlaine Harris' Southern Vampire series:
Dead until dark
Living dead in Dallas
Club Dead
Dead to the world
Dead as a doornail
Maybe the Ukiah Oregon series by Wen Spencer:
Alien taste
Tainted trail
Bitter waters
Dog Warrior

Barb Hendee, J. C. Hendee
Series Noble Dead:
Dhampir
Thief of Lives
Sister of the Dead
Traitor to the Blood (out 1/06)
Posted by Bunty @ 10/06/2005 04:53 PM ET
---
Sherrilyn Kenyon. I *adore* her Dark Hunter series.
Posted by lanchid @ 10/06/2005 06:48 PM ET
---
Kim Harrison's series starting with DEAD WITCH WALKING, and
Jim Butcher's Harry Dresden P.I. Wizard series.
Posted by VLPettersson @ 10/06/2005 06:52 PM ET
---
If she likes the erotica aspects of L K H I might suggest Kushiel's Dart trilogy by Jaqueline Carey. I also second the Charlaine Harris and Sherrilyn Kenyon suggestions. Angela Knight's vampire/witch series (forget what its called) oh and S.L. Viehl writing as Lynn Viehl the Darklyn series (I've only read the first one but found it pretty good) and The Weather Warden series by Rachel Caine for ass kickin heroines
Posted by Renee Ormsbee @ 10/07/2005 10:06 AM ET
---
I would suggest the above and Robin McKinley's Sunshine.
Posted by Chris Roberts @ 10/07/2005 08:48 PM ET
---
War for the Oaks by Emma Bull (Faerie mixing with the real world)
Michelle Sagara (West)
The Book of the Sundered:
Into the Dark Lands
Children of the Blood
Lady of Mercy
Chains of Darkness, Chains of Light
(Dark romantic fantasy being re-released in trade paper)
Posted by Bunty @ 10/08/2005 11:19 AM ET
---
Wm. Mark Simmons if you are looking for contemporary vampire. MaryJanice Davidson is good for some laughs and romance.
Armstrong, Butcher, Harrison, Harris and Caine are top picks.
Tanya Huff: I would say go with the Keeper series unless you are strictly looking for vampire.
I would hold off on Viehl until the next in the series is out. Just to see which way it is going to go.
Posted by Bill @ 10/08/2005 11:37 AM ET
---
I'm the exact opposite. Didn't like the Keeper series near as much as the Vicki Nelson series. To me the Nelson series has more of the gritty/P.I. feel of the Hamiliton books.
Posted by Bunty @ 10/08/2005 04:46 PM ET
---
I would recommend Anne Bishop's Dark Jewels books. Also, Emma Bull, Tithe by Holly Black, and Suzanne Sizemore's vampire trilogy.
Posted by Darcy @ 10/09/2005 05:32 PM ET
---
These are oldie, but goodie, Mercedes Lackey's Diana Tregarde books: Children of the Night, Burning Water, Jinx High.
And then Urban Shaman for something new.
This is all, of course, if she was intrigued by the supernatural investigation parts of the story. If she liked the eroticism of the later books, she might as well give Merry Gentry a try.
Posted by zvi @ 10/10/2005 08:27 AM ET
---
Depending on if she likes the early (PG-13) or later (R, NC17, and X rated) books, here are a few suggestions:
Early Books-
CE Murphy (author of Urban Shaman)
C.T. Adams & Cathy Clamp
Kelley Armstrong's Otherworld Series
Kim Harrison
Sherrilyn Kenyon Dark Hunter Series
Comedic Early Books -
Charlaine Harris Sookie Stackhouse series
MaryJanice Davidson Undead series
Katie MacAlister Aisling Grey series (Dragons)
later books (not for the faint of heart) -
Emma Holly
Sherri L King
Ashleigh Raine
Interesting Women but not paranormal-
JD Robb's Death series
Janet Evanovich's Stephanie Plum series
Susan Elizabeth Phillips
Jennifer Crusie
Just for those who haven't read the entire series, there is a big style difference between the first books and the last five or six. Anita does change drastically as do the number of men involved in the plotlines.
Posted by freecia @ 10/10/2005 06:44 PM ET
---
There was also one book I forget most of the details of- She is a finder and the cornerstore of a building has been stolen.
Anyone have an idea? This book was pretty good.
Posted by freecia @ 10/10/2005 06:51 PM ET
---
The book you are thinking of is the first of the Retrievers series by Laura Gilman - I think it's called "Staying Dead" (though that may be the second in the series.) The Luna books started out poorly, but some of the later offerings (the retrever series, Michelle Sagara's, Caitlin ...is it Brennan or Tiernan?... anyway aka Judith Tarr, CE Murphy) have been pretty good and along the lines of earlier LKH.
Posted by mary anne @ 10/10/2005 08:08 PM ET
---
In addition to all of the others above:
Crimson City by Liz Maverick
A Taste of Crimson by Marjorie M Liu
Through a Crimson Veil by Patti O'Shea
Posted by tamara @ 10/11/2005 12:49 PM ET
---
If you're talking about Hamilton's Anita Blake series, then definitely Sherrilyn Kenyon, Charlaine Harris, Kim Harrison Kelley Armstrong and Possibly Rachel Caine.
If you're talking about the Merry Gentry series, I'd add Karen Marie Moning to that list, as well as Tithe by Holly Black.
Posted by stacey @ 10/11/2005 09:03 PM ET
---
I also agree that you have to have some of the classic's such as Mercedes Lackey and Anne McCaffery if your only interest isn't vampires. I also recommend Kitty and the midnight hour.
Other authors I would recommend are
Tanya Huff (Quarters series also)
Kim Harrison
Jacquiline Carey (spelling?)
Posted by Lauren @ 11/06/2005 10:45 PM ET
---