[Previous entry: "Forthcoming Books, Two Book Covers"] [Main Index] [Next entry: "S.L. Viehl's AFTERBURN - Degrees of Recommendation (Linda, Preeti)"]
08/29/2005 Entry: "News from August 2005 Locus"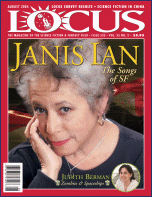 The August 2005 Locus features interviews with singer/songwriter/writer Janis Ian and with writer Judith Berman. Also, details of the always interesting results of this year's Locus Survey.
Lots of exciting news!
--Mercedes Lackey sold three new "Valdemar" novels and four "Elemental Masters" novels to DAW.
--Kate Elliott sold her seventh and final "Crown of Stars" novel to DAW.
--Sharon Lee & Steve Miller sold a sequel to BALANCE OF TRADE and a sequel to TOMORROW LOG to Meisha Merlin.
--Judith Tarr, writing as "Caitlin Brennan", sold three new books in her "White Magic" series to Luna.
--Vickie Taylor sold two more "gargoyle romantic suspense" novels to Berkley.
--Anne Kelleher sold fantasy trilogy "The House of the 13th Moon" to Luna.
--Laurell K. Hamilton handed in Anita Blake novel MICAH to Berkley.
--Sharon Shinn turned in DARK MOON DAUGHTER to Ace.
--Chris Moriarty's SPIN CONTROL was delivered to Bantam.
--Patricia Bray delivered THE FIRST BETRAYAL to Bantam.
--Phaedra Weldon turned in her Zoe Martinique series to Ace.
--Film rights to Holly Black's VALIANT went to MTV Films, with Mosaic Media Group producers Chuck Roven and Alex Gartner. The film will be distributed by Paramount.
Replies: 1 Comment
I'm dying to read Kate Elliott's book. The Liath and Sanglant relationship has been one of my favorites to read about these last few years. Does anyone know what Phaedra Weldon's series is about?
Posted by Preeti @ 08/30/2005 06:57 AM ET
---