[Previous entry: "THE EYRE AFFAIR -- Linda"] [Main Index] [Next entry: "Martha Wells' THE SHIPS OF AIR -- Worth Taking Vacation Time to Finish"]
06/18/2004 Entry: "News from June 2004 Locus"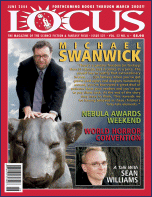 The June 2004 issue of Locus Magazine includes reports from last month's Nebula Awards Weekend and SF Museum preview, interviews with writers Michael Swanwick and Sean Williams and the all-important Forthcoming Books listings through March 2005
Some news:
--Anne McCaffrey & Todd McCaffrey will collaborate on two more untitled "Pern" novels for Del Rey; Todd McCaffrey delivered solo "Pern" novel DRAGONSBLOOD to Del Rey and to Bantam UK.
--Mercedes Lackey sold three new "500 Kingdoms" novels to Luna for a high six-figure advance.
--Carol Berg's DAUGHTER OF ANCIENTS, fourth and final installment in her "Bridge of D'Arnath" series, and standalone fantasy FLESH AND SPIRIT, went to Roc.
--Susan Sizemore sold two untitled romantic fantasies to Tor.
--Rachel Caine sold books 4, 5, and 6 in her "Weather Warden" series to Roc.