[Previous entry: "DISAPPEARING NIGHTLY -- Enjoyable, unusual (Linda)"] [Main Index] [Next entry: "Three SF Romance and an SF collection (Barbara)"]
02/08/2006 Entry: "News from the February 2006 Locus"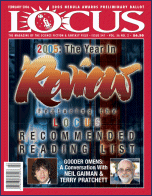 The February 2006 Locus is the annual Year in Review edition, with their Recommended Reading Lists for anything you might have missed in 2005. There is also an interesting and amusing simultaneous-but-not-together interview with Terry Pratchett and Neil Gaiman about their upcoming hardcover rerelease of GOOD OMENS. I'm gonna have to get that - it includes "an introduction by the authors, comments by each about the other, and answers to some still-burning questions about their wildly popular collaborative effort". (From the way it's being marketed, though, I bet a lot of people are going to pick it up thinking that it's new.)
Some news:
-The 2005 Preliminary Nebula Ballot is out and Bujold's THE HALLOWED HUNT, Czerneda's SURVIVAL and Pratchett's GOING POSTAL are on the Novel short list.
-Dave Duncan sold STARFOLK, first in a new Fantasy series, to Tor.
-Simon R. Green sold SECRET HISTORIES and two new books in a new Fantasy series for Roc.
-Sarah A. Hoyt sold urban Fantasy DRAW ONE IN THE DARK to Baen.
-Jane Lindskold sold the first three books in her new "Breaking the Wall" Fantasy series to Tor.
-Eric Flint & Dave Freer sold THE SORCERESS OF KARRES, another sequel to James Schmitz's THE WITCHES OF KARRES.
-Susanna Clarke sold mass market rights for JONATHAN STRANGE & MR. NORRELL to Tor.
-Katherine Kurtz delivered CHILDE MORGAN to Ace.
-Jim Butcher turned in CURSOR'S FURY, the third book in the "Codex Alera" series, to Ace.
-Trudi Canavan turned in THE LAST OF THE WILDS to Eos.
-Jennifer Stevenson delivered THE BRASS BED, first in her series "The SeX Files", to Del Rey.
-Sherrilyn Kenyon turned in DARK SIDE OF THE MOON, latest in her "Dark Hunter" series and the first to be published in hardcover, to St. Martin's Press.
-Film rights to Terry Pratchett's THE WEE FREE MEN were optioned by Sony Pictures Entertainment, with Sam Raimi slated to direct and co-produce with Vince Gerardis and Ralph Vicinanza of Created By.
Replies: 2 Comments
The Jim Butcher series is not the "Codex HERA" but the "Codex ALERA". Just thought you should know.
Have a nice day~
Posted by Selia @ 02/10/2006 02:02 PM ET
---
Thanks for the heads up. Typo fixed.
Posted by Rebekah @ 02/13/2006 01:32 AM ET
---