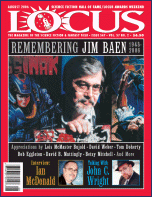 The August 2006 Locus looks to have the usual complement of interesting features and reviews, including appreciations of the recently-deceased publisher Jim Baen, but my immediate destination is always the People & Publishing section. Some news from said section:
Tanya Huff's VALOR'S TRIAL, fourth in her Confederation military series, went to Sheila Gilbert at DAW via Joshua Blimes
Cherie Priest sold urban fantasy FATHOM and "trashy noir vampire novel" AWAKE INTO DARKNESS to Liz Gorinsky at Tor via Jennifer Jackson of the Donald Maass Agency
Lily Archer's THE POISON APPLES, about three teenaged girls battling "the Evilest Stepmother in the Cosmos," went to Jean Feiwel at Feiwel & Friends via Melissa Flashman of Trident Media Group
Sarah Beth Durst's YA fantasy RAPUNZEL'S DAUGHTER went to Liesa Abrams at Razorbill via Andrew Somberg*
Justine Musk's supernatural teen novel STRANGER went to Jennifer Heddle for MTV Books via Andrea Somberg*
Lyda Morehouse writing as "Tate Hallaway," delivered DEAD SEXY, sequel to TALL DARK AND DEAD, to Anne Sowards for Berkley
A film version of Philip Pullman's THE GOLDEN COMPASS has been greenlighted by New Line Cinema, with a budget of around $150 million. The film will begin shooting in the UK in September 2006
*Is that a husband and wife literary agent team or a typo in the mag?