[Previous entry: "News from the March 2006 Locus"] [Main Index] [Next entry: "CRYSTAL DRAGON by Lee&Miller; - Bittersweet but interesting (Leila)"]
03/31/2006 Entry: "MICAH by Hamilton - Anita keeps it simple (Linda)"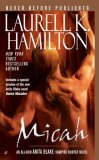 This LKH book is much thinner and double spaced, something I might have complained about in the past but with my poor eyesight, appreciate more now.
Also a much less complicated plot. Due to an emergency, Anita takes a job to animate a deceased witness for the FBI. Unfortunately it entails flying, which Anita does not enjoy. Micah comes along to help her handle any ardeur emergencies.
I enjoyed it. I have to admit one of the reasons I enjoyed it so much was Anita was with ONE man for a change!! I still miss that in her other books. Gets pretty crowded in her bed. I enjoyed finding out more about Micah and I do enjoy seeing her using her animation skills as a job again. There is just enough danger involved to keep things interesting.
Oh and there is a peek into her next book, DANSE MACABRE, that will make me HAVE to read it. Anita might be pregnant!! --Linda
***
Oh, man I hope not. That would be wrong on so many levels --Laurie
Read our thoughts on some of the other books in the "Anita Blake, Vampire Hunter" series:
--GUILTY PLEASURES (Book 1) review page
--OBSIDIAN BUTTERFLY (Book 9) review page
--NARCISSUS IN CHAINS (Book 10) review page
--CERULEAN SINS (Book 11) review page
--INCUBUS DREAMS (Book 12) review page
--MICAH at Amazon
Replies: 2 Comments
OK, this foray didn't bother me as much as the previous few entries, despite the Micah focus. Have I just been worn down to the point I'll accept mediocrity, or is this installment actually better?
P.S. I LOVE this site!
Anjie
Posted by Anjie @ 04/09/2006 03:22 AM ET
---
maybe shes not pregnant.. could be that she cant have babies now as some sort of weird side effect.. i dunno.. but i think if she is then i may have to not like her as much.
Posted by ellie @ 04/21/2006 12:59 AM ET
---