[Previous entry: "Tregarde Is Back - at least in reissue"] [Main Index] [Next entry: "POISON STUDY by Snyder - Character Focused (Lori)"]
01/14/2006 Entry: "News from the January 2006 Locus"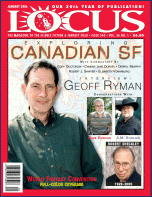 Happy New Year to all our readers!
The January 2006 Locus focuses on Canadian SF, with interviews with Canadian writers Geoff Ryman, S.M. Stirling, and Dave Duncan, as well as essays on the state of SF in Canada by Charles N. Brown, Cory Doctorow, and others.
News which caught our eye:
-Sarah Monette sold THE MIRADOR and SUMMERDOWN, sequels to MELUSINE and VIRTU to Ace.
-Alan Dean Foster sold SAGRAMANDA, a near-future tale of India, to Pyr.
-Tom Holt's next three humorous fantasy novels sold to Orbit.
-Diana Pharoah Francis sold three books in her new Crosspointe Chronicles series to Roc.
-Rachel Caine sold three novels in a YA vampire series to NAL.
-Deborah Chester's THE PEARLS OF SORROW and THE EMERALD THRONE went to Ace.
-Mary Janice Davidson & Anthony Alongi sold volumes three and four in their Jennifer Scales YA Fantasy series to Ace.
-Liz Williams's THE DEMON AND THE CITY, sequel to SNAKE AGENT, went to Night Shade Books.
-Kage Baker's collection DARK MONDAYS, featuring an original pirate novella, sold to Night Shade Books.
-Tad Williams sold a collection to Subterranean Press.
-Kristine Katherine Rusch turned in PALOMA, fifth in her Retrieval Artist series, to Ace.
-Charlaine Harris delivered Sookie Stackhouse novel DEFINITELY DEAD to Berkley. Harris & Toni Kelner sold original vampire anthology MANY BLOODY RETURNS, and Harris resold early mystery novels SWEET AND DEADLY REVENGE and A SILENT RAGE, all to Ginjer Buchanan. TV Rights for her Sookie Stackhouse series went to HBO.
-S.L.Viehl turned in CLANSON, seventh in her Star Doc series, to Roc.
-Julie Kenner turned in CALIFORNIA DEMON and Kenner, Dee Davis, and Kathleen O'Reilly all delivered novellas for anthology HELL WITH LADIES, to Penguin.
-Sarah Hoyt, writing as Sarah D. Almeida, delivered DEATH OF A MUSKETEER, first in a historical mystery series, to Berkley/Jove.
-Chris Marie Green, writing as Crystal Green, delivered the first book in her Vampire Underground trilogy to Berkley.
-Ellen Datlow & Terri Windling turned in YA fantasy anthology THE COYOTE ROAD: TRICKSTER TALES to Viking Children's Books.