[Previous entry: "Books with Vampires, Vampires, Vampires (Laurie)"] [Main Index] [Next entry: "MELUSINE by Sarah Monette -- Eh (Preeti)"]
09/06/2005 Entry: "Fantasy Art Exhibit in New York City"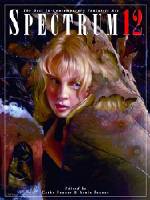 I wish I lived in NYC. The Museum of American Illustration at the Society of Illustrators in New York City is hosting an exhibition of two hundred original works of art selected from the first eleven volumes of the SPECTRUM series of art books. There will be pieces by Kinuko Craft, Leo and Diane Dillon, Brian Froud, and many other artists whose works I've admired on book covers. (info via ad in Locus.)
Details:
September 7-October 1, 2005
128 East 63rd Street, New York, NY 10021
Tues 10 am-8pm; Wed-Fri 10am-5pm; Sat noon-4pm
Free Admission
Hmm, maybe a day trip to NYC is called for. Anyone planning to attend?
Replies: 1 Comment
Wow, that would be cool to check out ... Too bad I'm on the wrong coast!
Posted by Rebekah @ 09/07/2005 04:27 PM ET
---