[Previous entry: "Charlaine Harris' DEAD AS A DOORNAIL--Placeholder Volume (Leila)"] [Main Index] [Next entry: "News from May 2005 Locus"]
04/25/2005 Entry: "LOCAL CUSTOM audiobook"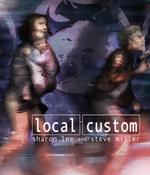 New publisher Buzzy Multimedia has announced the upcoming release of Sharon Lee & Steve Miller's LOCAL CUSTOM as an audiobook. The book will be released on June 27th and will be read by Michael Shanks from "Stargate SGI". Buzzy has also done audiobooks for the Dresden files by Jim Butcher and ILL MET BY MOONLIGHT by Sarah Hoyt. Readers for Buzzy include Jason Carter ("Babylon 5"), Nigel Bennett ("Forever Knight"), Ben Browder ("Farscape") and James Marsters ("Buffy, The Vampire Slayer"). More info.
Replies: 1 Comment
Just finished listening to this one and can't wait for the next one in the series. I have been a Lee/Miller fan for years but for some reason couldn't picture their work in audio. Then I saw Michael Shanks was doing it so I gave it a chance. Boy am I glad I did. The man is well THE MAN. He 'gets' the Liaden Universe and seems to not only channel characters as diverse as Daav and Petrella but also makes you feel you are part of this very Regency-type society. 5 Stars !!
Posted by Sarah Dorn @ 07/16/2005 10:17 PM ET
---