[Previous entry: "Talking About Reviewing VALIANT (Preeti)"] [Main Index] [Next entry: "Coming to a screen near you?"]
11/02/2005 Entry: "News from the November 2005 Locus"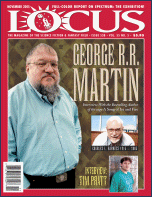 The November 2005 Locus features interviews with writers George R.R. Martin and Tim Pratt, a special report on The Spectrum Exhibition at The Museum of American Illustration, news stories about the the Sunburst Award, the British Fantasy Awards, Tachyon Publications' 10th anniversary, and the upcoming Narnia film.
News which caught our eye:
--"Kim Harrison" sold three new novels in a "major world rights deal" to Eos.
--Julie Kenner sold THE GOOD GHOUL'S GUIDE TO GETTING EVEN, first in a series, to Berkley in a pre-empt.
--Jim Butcher sold the ninth, tenth, and eleventh volumes of his "Dresden Files" series to Roc. The Sci Fi Channel has greenlighted filming of a pilot for The Dresden Files.
--Kate MacAllister sold GHOST OF A CHANCE, first in a new "darkly comic paranormal mystery series," and a second book to NAL.
--Patti O'Shea sold IN THE MIDNIGHT HOUR and TWILIGHT SHADOWS to Tor Romance.
--C.E. Murphy sold the "Old Races" trilogy, beginning with HEART OF STONE, to Harlequin Luna.
--Delia Sherman delivered CHANGELING to Viking.
--Ellen Kushner turned in THE PRIVILEGE OF THE SWORD to Bantam.
Replies: 2 Comments
Patti O'Shea blurbs IN THE MIDNIGHT HOUR (yes, HOUR, not HOUSE) as:
When a troubleshooter for a society of magic users rescues a private investigator from a dark spell, she finds more than an ally as she faces down her former mentor IN THE MIDNIGHT HOUR.
Posted by Katherine @ 11/02/2005 04:51 PM ET
---
THE PRIVILEGE OF THE SWORD is a sort-of-sequel to SWORDSPOINT, taking place some 20 years after the first novel, and narrated by Alec's teenage niece. It will be published by Bantam Books in August, 2006.
Posted by Ellen Kushner @ 11/06/2005 11:19 PM ET
---