[Previous entry: "Justine Musk's BLOODANGEL -- Wrong Genre for Me (Preeti)"] [Main Index] [Next entry: "Clare Dunkle's IN THE COILS OF THE SNAKE -- I hate, then reconsider (Preeti)"]
10/03/2005 Entry: "Serenity - A movie for all SF lovers"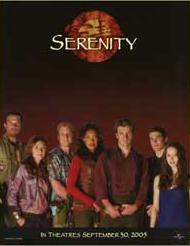 This is outside of our normal area, but I have to tell people about the fanastic movie Serenity! While it comes out of the tv series "Firefly", you don't have to know anything about the TV show to enjoy the movie. Serenity is for people who like their science fiction movies to have action and special effects, but also to have intelligence, real plot and incredible characters. There are a couple of minor romantic threads, including one "It's about time!" moment. For more info, go to the Serenity website.
Replies: 1 Comment
Developed by Joss Whedon, the creator of the TV series "Buffy" and "Angel". Sort of a "Cowboys in Space". The First(only) season CD's were an instant bestseller on Amazon and have over 2000 reviews :) Fun, Fun series, great movie!
Posted by Patty @ 10/04/2005 01:38 AM ET
---