[Previous entry: "WARPRIZE by Elizabeth Vaughan -- high recommend (Linda)"] [Main Index] [Next entry: "Patricia McKillip's OD MAGIC (Preeti)"]
09/16/2005 Entry: "A Question for our Readers: Fairy Tale Retellings?"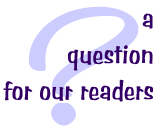 We're in the process of revising and expanding our reader advisory lists, and we'd like to get your help! We'll regularly pose a question, then all our savvy readers can respond in the "comments" field. Let's see how this goes!
First question:
If your friend tells you that she enjoys Fairy Tale retellings, what books do you immediately recommend?
Replies: 20 Comments
My first thoughts are BEAUTY and ROSE DAUGHTER by Robin McKinley, as well as SNOW WHITE AND ROSE RED by Patricia C. Wrede.
Posted by Rebekah @ 09/16/2005 02:29 AM ET
---
I would reccomend Daughter of the Forest by Juliet Marillier, Deerskin by Robin McKinley, Briar Rose by Jane Yolen, The Black Swan and also The Firebird by Mercedes Lackey. Even though its not a fairy tale retelling, I think someone with that taste would enjoy Summers at Castle Auburn by Sharon Shinn. Donna Jo Napoli has also written some enjoyable fairy tale retellings directed towards a young adult audience (for example: Sirena, or Spinners)
Posted by jordan @ 09/16/2005 04:00 AM ET
---
I agree with Rebekah, Beauty and Rose Daughter by Robin McKinley as well as Fire and Hemlock by Diana Wynne Jones (a retelling of the poem Tam Lin).
Posted by Leslee @ 09/16/2005 07:25 AM ET
---
Robin McKinley: Beauty, Spindle's End, Rose's Daughter, Deerskin. Anything by Juliet Marillier. Mercedes Lackey: Fire Rose, Gates of Sleep, Serpent's Shadow, Black Swan. Gail Carson Levine: Ella Enchanted, Two Princesses of Bamarre. Rebecca Lickiss: Never After. Patricia McKillip. Elizabeth Marie Pope.
I can't think of any others.
Posted by Rebekah @ 09/16/2005 08:47 AM ET
---
I immediately though of McKinley as well, but Tam Lin by Pamela Dean, East by Edith Pattou, and a lot of short stories by Tanith Lee (though it is not happy), The Bloody Chamber by Angela Carter, and Jack the Giant Killer by Charles de Lint.
Posted by Jennifer @ 09/16/2005 11:26 AM ET
---
Most of the ones I really love have already been mentioned (McKinley, Wrede, Yolen), but I also like Vivian Vande Velde's Rumpelstiltskin Problem, which is a YA collection of six very different retellings of the story, and Shirley Rousseau Murphy's Cinderella retelling, Silver Woven In My Hair. Gregory Frost's Fitcher's Brides and Gregory Maguire's Confessions of an Ugly Stepsister are both thoughtful and interesting reads on the darker side of the spectrum.
The Surlalune site is a great resource for fairy tale retellings: www.surlalunefairytales.com
Posted by Ailanna @ 09/16/2005 12:29 PM ET
---
First thought is Robin McKinley,,,then Ella Carson Levine, Pamela Dean, Charles Delint (the two "Jack" stories he did spring to mind), Shannon Hale, Ellen Kushner's "Thomas the Rhymer", Clair Dunkle. Elizabeth Marie Pope. Sorry - I'm much better at remembering authors than book titles.
Posted by mary anne @ 09/16/2005 07:08 PM ET
---
One I enjoyed that hasn't been mentioned is The Seventh Swan by Nicholas Stuart Gray – it's the story of what happened afterwards to the man left with a swan's wing at the end of the fairytale.
Posted by Becca @ 09/17/2005 05:38 AM ET
---
_An Earthly Knight_ by Janet McNaughton (another retelling of Tam Lin)
Rusalka series by C. J. Cherryh 1)_Rusalka_ 2)_Chernevog_
3)_Yvgenie_ These are based on Russian folklore.
_The Snow Queen_ Joan Vinge
Posted by Bunty @ 09/17/2005 04:18 PM ET
---
I like the above and also THE HOB'S BARGAIN by Patricia Briggs. Sort of a retelling of Beauty and the Beast.
Posted by memline @ 09/20/2005 08:15 PM ET
---
I always recommend McKinley's Beauty and Deerskin.
The Perilous Gard by Elizabeth Marie Pope retells Tam Lin wonderfully.
Juliet Marillier's take on the Seven Swans story-Daughter of the Forest is excellent.
The Goose Girl by Shannon Hale is pretty good. As is Snow by Tracy Lynn and Beauty Sleep by Cameron Dokey.
A very old childhood favorite of mine is "Are All the Giants Dead?" by Mary Norton with wonderful illustrations by Brian Froud.
And lastly for one that appeals to men as well as women, Echantment by Orson Scott Card, a time-hopping retelling of Snow White with Baba Yaga as the villianess.
Posted by Dawn @ 09/22/2005 05:00 PM ET
---
the series from Terri Windling (sp?) and Ellen Daltow ie: Snow White Blood
Red, Ruby Slippers Golden Tears, ect are good adult retellings.
I adore anything Robin McKinley, and Holly Black does great work although it is not a traditional retelling per se.
any of the other ones are winners as well :+) Ella Enchanted the book was way better than the movie btw
Posted by Surreal @ 09/22/2005 10:54 PM ET
---
UTTERLY CHARMING by Kristine Grayson was the first book to come to mind.
Posted by James @ 09/25/2005 10:14 AM ET
---
Definitely the books edited by Terri Windling and Ellen Datlow, and I also think Terri has done a few on her own as well.
A couple of books edited by Jack Zipes have retellings in them.
For adults who aren't afraid to read comic books, I also recommend the Fables series by Bill Willingham.
For humourous versions, I'd say go for Slay and Rescue, and Heroics For Beginners by John Moore. I haven't read his new one yet, but it looks good too.
Posted by SK @ 09/25/2005 01:52 PM ET
---
I forgot... I was also going to add that there was a whole series of fairy-tale retellings from Terri Windling and Thomas Canty(Kushner's Thomas the Rhymer was one of these, and it included books by De Lint, Tanith Lee, Yolen, etc.). There's a list here: http://www.endicott-studio.com/snowWhite.html
Posted by SK @ 09/25/2005 01:56 PM ET
---
JULIET MARILLIER!!!!!!
DAUGHTER OF THE FOREST!!!!!!!!!!
BOOYAH!!!!!!!!!
Posted by Kelly @ 09/25/2005 05:17 PM ET
---
The Bloody Chamber by Angela Carter. A lot of Tanith Lee for dreamy, fairytale atmosphere.
Posted by Maria @ 09/26/2005 08:21 AM ET
---
I also immediately thought of Beauty by Robin McKinley.
Posted by Teresa @ 09/27/2005 03:51 PM ET
---
I'd recommend the various versions of "Beauty" out there (McKinley and Tepper), "Enchanted" by Orson Scott Card, several of the books by Charles de Lint , Mercedels Lackey's whole Elemental Masters Series, and of course Juliet Mariller's SevenWaters Trilogy.
Posted by Kari @ 09/29/2005 09:47 AM ET
---
I'm surprised no one mentioned Francesca Lia Block's anthology The Rose and The Beast. It's got lots of great, extremely original retellings.
Posted by zvi @ 10/06/2005 12:27 AM ET
---