[Previous entry: "MELUSINE by Sarah Monette -- Eh (Preeti)"] [Main Index] [Next entry: "Kim Harrison - EVERY WHICH WAY BUT DEAD (Shelley)"]
09/09/2005 Entry: "News from September 2005 Locus"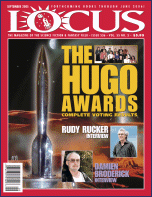 The September 2005 Locus features coverage of this year's Hugo Awards ceremony and results and quarterly listings of Forthcoming Books through June 2006.
News which caught our eye:
--Jo Walton's THOSE WHO FAVOR FIRE, sequel to World Fantasy Award winner TOOTH AND CLAW, sold to Tor.
--Tanya Huff sold a third novel in her "Torrin Kerr" military SF series to DAW and resold SMOKE AND SHADOWS and SMOKE AND MIRRORS to Orbit.
--Fiona Patton's THE SILVER TOWER, latest in her "Warriors of Estava" series, went to DAW.
--Faith Hunter's BLOODRING and two more novels in a "sexy urban fantasy series" went to Roc.
--Shiloh Walker's HUNTING THE HUNTER sold to Penguin Putnam.
--Charlaine Harris turned in DEFINITELY DEAD, her sixth "Sookie Stackhouse" novel, to Ace, and resold paperback rights to SHAKESPEARE'S CHAMPION, second in her "Lily Bard" mystery series, to Berkley Prime Crime.
--Kinley McGregor delivered SWORD OF DARKNESS, first in her "Lords of Avalon" Arthurian fantasy series, to HarperCollins.
Replies: 4 Comments
Does the Locus info about Lackey's new VALDEMAR books state, what these books will be about?
Posted by Olaf @ 09/11/2005 04:02 AM ET
---
Sorry, but I am quite sure that the article included info about three new Valdemar novels from Lackey. Now it seems to be gone. Did I imagine that?
Posted by Olaf @ 09/11/2005 04:05 AM ET
---
Valdemar was mentioned in our entry about the August Locus, Olaf.
http://www.romanticsf.com/news/00000335.shtml
I'm pretty sure that no additional information on the books was given.
Posted by Preeti @ 09/11/2005 10:50 AM ET
---
Yes, sorry.I only realized that afterwards that it was from the August issue. Meanwhile I have found some other sources about these new novels. Rumor has is that one will be about the founding of Valdemar, although Misty once said she would never write that.
From a recent Lackey Newsletter:
"Actual story related news? That was scarce, but there were a few interesting tidbits. Misty just signed a seven book contract with someone--DAW?--and a four book contract to continue the Valdemar/Velgarth universe. Of the latter, one book will be about the Founding--which she's sworn never to do, but now, 'One volume! No more! I swear!'--and the other three will be a trilogy set somewhere between the Founding and Vanyel, because 'There's less continuity to remember, dammit.' She seems to be backing off on a lot of old 'never' these days, because when someone else asked if Diana Tregarde would ever come back, her response was . . . maybe. I was both surprised and not by that--on one hand, there was a huge stink about those books back in the day, a stink that apparently affected Misty on a very personal level, but on the other hand, Diana is one of the precursors to all of the female-oriented urban fantasy-vampire books flooding the shelves right now; the time is right, and they are currently re-releasing all three existing books in trade paperback now."
http://www.dragonlordsnet.com/qoaug05.htm
Posted by Olaf @ 09/16/2005 04:06 AM ET
---