[Previous entry: "News from June 2005 Locus"] [Main Index] [Next entry: "EYRE AFFAIR and LOST IN A GOOD BOOK -- Stop at one? (Rebekah)"]
08/15/2005 Entry: "News from the July 2005 Locus"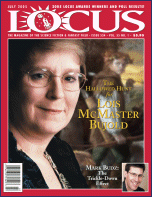 We've had a long summer hiatus, but we're now back from vacations and heavy workloads. Time to get caught up with what we've been reading!
The July 2005 Locus has a feature interview with one of our favorites, Lois McMaster Bujold. A few highlights:



"The fundamental question of history is 'What were these people thinking? History gives you ideas, things you never would have imagined with this sort of bland picture you get of it from a more cursory reading."

"I don't think of my own fantasies as particularly gritty. They're generally not as horrible as real life, or what would be the point?"

"Teresa Neilson Hayden had this little disertation abgout writers as otters. You can't train an otter, she says, because when you reward it instead of saying, 'Let's do that again' it says, 'Oh, let's do something else that's even cooler!' This is the writer's approach. ... Drives editors nuts, because they're trying to train their writers."


This issue of Locus also contains an interview with Mark Budz and the results of this year's Locus Poll for the best books and stories of 2004.

Some news which caught our eye:
--Catherine Asaro recieved the 2005 Outstanding Achievement Award for breaking new ground in genre writing from the Washington Romance Writers, a division of Romance Writers of America.
--Jennifer Roberson turned in KARAVANS, first in a new fantasy universe, to Baen.
--Lyda Morehouse, writing as "Tate Hallaway", delivered TALL, DARK and DEAD to Penguin for an imprint to be named later.
--Jim Butcher turned in PROVEN GUILTY to Roc.
--Peter S. Beagle sold WRITING SARAK, which will include the script of the "Star Trek: The Next Generation" episode Beagle wrote, along with a memoir of the experience, to Conlan Press.