[Previous entry: "Charlaine Harris' DEAD AS A DOORNAIL -- In Brief (Shelley)"] [Main Index] [Next entry: "News from the July 2005 Locus"]
06/08/2005 Entry: "News from June 2005 Locus"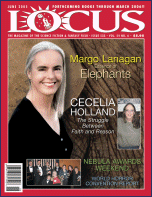 The June 2005 Locus features interviews with writers Margo Lanagan and Cecelia Holland, a report from this year's World Horror Convention and US and UK Forthcoming Books listings through March 2006.
Some news which caught our eye:
--Simon R. Green sold his seventh, eighth, and ninth "Nightside" novels to Ace.
--Margaret Mahy sold post-apocalyptic science fiction MADDIGAN'S FANTASIA and two more books to Faber. TV rights have sold to the BBC.
--Rachel Lee's SHADOWS OF DESTINY, conclusion to her Ilduin trilogy, sold to Luna via Helen Breitswieser of Cornerstone Literary. Leslie Wainger will edit.
--Sarah Monette handed in KEKROPIA to Ace.
--The new animated film of HOWL'S MOVING CASTLE will have its English-language UK premiere at the 2005 World Science Fiction Convention in Glasglow.
--There are a lot of authors (or maybe saying publishers is more accurate) continuing to jump on the LKH-inspired bandwagon. Patricia Briggs, Keri Arthur, and Lyda Morehouse will have witch/vampire/werewolf type series coming out in the next year or so.