[Previous entry: "Lee and Miller's CRYSTAL SOLDIER--Thumbs Up (Suzanne)"] [Main Index] [Next entry: "LKH's A STROKE OF MIDNIGHT--Er, Where's the Rest of the Story? (JW, Shelley)"]
04/12/2005 Entry: "News from April 2005 Locus"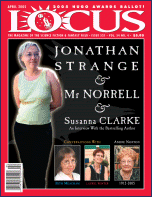 The April 2005 Locus includes interviews with JONATHAN STRANGE & MR. NORRELL writer Suzanna Clarke, Fantasy writer Laurel Winter and Tor editor Beth Meacham.
Also in this issue is the obituary and many appreciations of the much loved Andre Norton who died on March 17th at the age of 93. Norton wrote over 200 books and short stories - her first novel published in 1934 and last to be published this month. She was also a tireless editor and collaborator. She will be missed. (Norton requested before her death that she not have a funeral service, but instead asked to be cremated along with a copy of her first and last novels. More information, including where to send memorials.)
Some news:
--Anne McCaffrey has been named the 22nd SFWA Grand Master. Her award will be presented during the Nebula Awards Weekend April 28 - May 1, 2005, in Chicago.
--Octavia E. Butler sold vampire novel FLEDGLING to Seven Stories Press.
--Melanie Rawn sold contemporary fantasy SPELLBINDER to Tor.
--Sarah Hoyt, writing as Sarah D'Almeida, sold three books in a Three Musketeers mystery series to Berkley/Jove.
Replies: 1 Comment
Melanie Rawn writing again? Good news!
Posted by Stuart @ 04/16/2005 07:23 AM ET
---