[Previous entry: "Rachel Lee's SHADOWS OF MYTH--The Spark is Back (Linda)"] [Main Index] [Next entry: "Quick Poll: Your choice for RT Best Science Fiction Novel?"]
03/11/2005 Entry: "News from March 2005 Locus"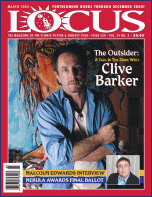 The March 2005 Locus includes interviews with writer Clive Barker, Forthcoming Books in the US and UK through December 2005 and the 2004 British Book Summary.
Some news:
--Catherine Asaro sold ALPHA, sequel to SUNRISE ALLEY, to Baen.
--Hilari Bell sold a new series featuring "a Don-Quixote-esque young nobleman" to HarperChildren's.
--S.L. Viehl delivered REBEL ICE, sixth in her StarDoc series, to Roc.