[Previous entry: "Kim Harrison's THE GOOD, THE BAD, AND THE UNDEAD--v.g. (Shelley)"] [Main Index] [Next entry: "Robin Owens' GUARDIAN OF HONOR--Fun, Rushed (Shelley)"]
02/17/2005 Entry: "News from February 2005 Locus"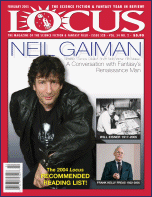 The February 2005 Locus is the annual Year-in-Review issue, looking back at 2004, with recommended reading essays, summaries of the year in publishing, and a composite recommended reading list of books and stories. Also in this issue is an entertaining interview with writer Neil Gaiman.
Some news:
--Sharon Shinn sold YA novel THE DREAM-MAKER'S MAGIC to Viking. She also sold a novella set in her new universe to Ace, to be published with forthcoming novel MYSTIC AND RIDER.
--Kim Antieau sold mainstream YA novel MERCY, UNBOUND to Simon Pulse.
--"Robin Hobb" turned in SHAMAN'S CROSSING, first in her new Soldier Son trilogy, to Voyager.
--Anne Bishop turned in ALTERED LANDSCAPES to Roc.
--Diana Wynne Jones attended a secret screening of HOWL'S MOVING CASTLE, the film by acclaimed director Hayao Miyazaki based on her eponymous novel. She calls the film "splendid and breathtaking", and says she "had a long talk with Mr. Miyazaki and it began to seem that we were soulmates."
Replies: 1 Comment
on Howl's Moving Castle/Hauru no ugoku shiro (which of course I had to go look up) it would seem that 'everyone but North America' is already seeing it. The US is slowed down by the Disney subtitle arrangements, and I think Canada gets stuck along with us. It is due out here in late June.
Reviews look mixed. Expect a movie not-too-close to the book; there appears to be a war on with a neighboring country, and several other things not from DWJ's book. On the IMDB boards, 'Mirai Trunkz' posted:
I was disappointed by Miyazaki's renderation of Howl's Moving Castle, especially since I had read the book first. (Let's just say I had high expectations because i enjoyed the book, I thought he could only further IMPROVE any weak areas of the story.)
some Miyazaki-fans, meanwhile, feel that it's got too many elements in common with Spirited Away... 'Dballred' says (spoiler: stop reading now if you care about ultra-thumbnail plot synopses)
Let's see now. Young defenseless female is spellbound by older female and befriended by young, handsome, kind male with character issues and magical powers of his own. Such female finds way with her own strength of character to break spell and save young such male's life, including identical nursing back from the brink scene. No, I guess there's no similarity.
On the other hand, L Signo doesn't mind either issue too much:
I found HMC maybe less creative than Spirited Away, but a far more entertaining movie, with a better story, more appealing characters, and generally speaking a more emotionally involving experience. I'm a big Diana Wynne Jones fan, but the fact the movie changed so much from the novel was perfectly ok for me.
Everybody loves the visuals and animation.
Posted by megd @ 02/28/2005 10:04 AM ET
---