[Previous entry: "LKH's INCUBUS DREAMS -- Scattered Yet Attention-Grabbing (Laurie)"] [Main Index] [Next entry: "BITE and DREAMS MADE FLESH, good and v.g. (Shelley)"]
01/10/2005 Entry: "News from January 2005 Locus"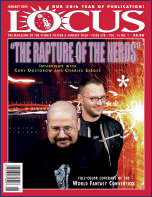 The January 2005 Locus contains interviews with writers Charles Stross and Cory Doctorow, an article by Ursula K. Le Guin about the Earthsea TV series (different from the articles on her website and in Slate), and full coverage of October's World Fantasy Convention.
Some news:
--Peter Beagle's "Two Hearts", a novella set in the world of THE LAST UNICORN, will appear in a future issue of Fantasy & Science Fiction.
--Carol Berg's SONG OF THE BEAST received the 2004 Colorado Book Award for SF/F, presented by the Colorado Endowment for the Humanities.
--Patricia Briggs sold two dark fantasy novels in her new "Mercy Thomson" series to Ace. Briggs describes the series as "set in a world struggling to come to grips with vamipires, werewolves, et alia. The protagonist is a small town coyote shapeshifter with a trade in fixing German cars and a complicated love life."
--Charlaine Harris resold paperback rights to SHAKESPEARE'S LANDLORD, first in her "Lily Bard" mystery series, to Berkley.
--Dawn Cook turned in the as-yet-untitled sequel to THE DECOY PRINCESS to Ace.
--Jim Butcher's "The Dresden Files" will be made into a roleplaying game by Evil Hat Productions.