[Previous entry: "Goose, Raven, Goblins -- More from Edith"] [Main Index] [Next entry: "Another Round on Clare Dunkle's CLOSE KIN (Preeti, Margaret)"]
12/14/2004 Entry: "News from December 2004 Locus"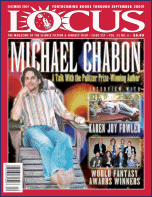 The December 2004 Locus contains interviews with writers Michael Chabon and Karen Joy Fowler, a report from this year's World Fantasy Awards banquet (which I enjoyed attending), and forthcoming books listings for the US and Britain, through September 2005.
Some news:
--Dave Duncan's SF/Fantasy duology, CHILDREN OF CHAOS and MOTHER OF LIES went to Tor.
--Keri Arthur sold dark urban fantasy FULL MOON RISING and two sequels to Bantam Spectra.
--There were many new acquisitions by Firebird, including Graham Joyce's TWOC, Pat Murphy's THE WILD GIRLS and THE CITY NOT LONG AFTER, and Ellen Klages's THE GREEN GLASS SEA.
--Fantasy author Kelley Armstrong sold mainstream thriller NO HUMANS INVOLVED to Bantam.
--Anne Kelleher turned in SILVER'S BANE, second in her "Faerie Queen" trilogy, to Luna.
--Julie Czerneda was one of the winners of the 2004 Prix Aurora Award, given by the Canadian Science Fiction and Fantasy Association.