[Previous entry: "LKH's INCUBUS DREAMS -- JW & Linda Check In"] [Main Index] [Next entry: "LKH's INCUBUS DREAMS -- Another Round (Linda & JW)"]
11/21/2004 Entry: "News from November 2004 Locus"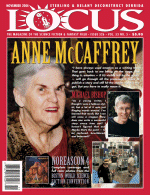 The November 2004 issue of Locus Magazine includes interviews with writers Anne McCaffrey and Michael Bishop and reports from Noreascon 4 (Worldcon) with lots of color photos.
Some news:
--Jacqueline Carey delivered KUSHIEL'S SCION, first in her new "Imriel" trilogy, to Warner Aspect.
--Judith Tarr turned in historical fantasy KING'S BLOOD to Roc.
--Barbara Hambly turned in CIRCLE OF THE MOON to Warner Aspect.
--Kim Harrison delivered EVERY WHICH WAY BUT DEAD, third in her "Rachel Morgan" series, to Eos.
--Carol Berg delivered DAUGHTER OF ANCIENTS, final book in her "Bridge of D'Arnath" series, to Roc.
--"S.L. Viehl" turned in AFTERBURN, sequel to BIO RESCUE, to Anne Sowards at Roc.