[Previous entry: "Jim Butcher's THE FURIES OF CALDERON - Glad It's Good (Linda)"] [Main Index] [Next entry: "LKH's INCUBUS DREAMS -- JW & Linda Check In"]
11/13/2004 Entry: "The Most Anticipated Book of 2005?"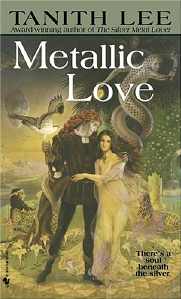 In the course of updating the forthcoming books page, I discovered the cover of Tanith Lee's METALLIC LOVE is up at Amazon as well as the publisher's blurb. Kinuko Craft has created another beautiful work of art. (Aside: I signed up for the 2005 World Fantasy Convention only because I saw Craft is the artist guest of honor.)
I picked up Bantam Spectra promotional material at Noreascon 2004 that included the first chapter of this book. The excerpt was good, but kinda grim. The heroine isn't Jane but a young girl raised in deprivation by an inner-city cult. We learn about her awful life, and her discovery of Jane's diary, through her own journaling. It wasn't a particularly gripping beginning, but I'm still dying to read the entire book. (And as much as I loved THE SILVER METAL LOVER, I hope to god that if METALLIC LOVE has a romance, it isn't heartbreaking.)
Here's what Tanith Lee had to say about the book on her website in 2003:
I'm now well into Metallic Love (sequal to The Silver Metal Lover). It's surprising me all the way, which is fascinating and often uncomfortable. You may agree, if and when you read it. It's a very different work to the first, but then, although I partly accept that many writers really write the same book over and over in (one hopes) utterly different ways, I never had any intention of reproducing the first novel. This is a spiky, glittering mirror image, with a dark-haired narratrix out of the slums. But Silver is there... oh boy, is he. The same, and not the same. We all know, there is more than one kind of angel...
Intriguing, no?
--METALLIC LOVE at Amazon
--THE SILVER METAL LOVER at Amazon