[Previous entry: "TIME SCOUT Robert Asprin and Linda Evans -- Rebekah liked it"] [Main Index] [Next entry: "LKH's INCUBUS DREAMS--Loads of Sex, Little Plot (Suzanne)"]
08/25/2004 Entry: "Romantic SF authors to be at Boston Worldcon"
The 62nd World Science Fiction Convention (Worldcon) will be held in Boston, MA next week from September 2nd through 6th. Not only can you mingle with bunches of fellow fans, debate the most obscure topics with panel guests, and scour the massive dealer's room for that longed-for item, you can also meet many romantic SF authors.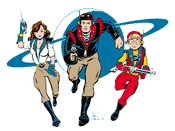 Those include:
Catherine Asaro,
Hilari Bell,
Carol Berg,
Lois McMaster Bujold,
Neil Gaiman,
Charlaine Harris,
Laura Anne Gilman,
Tanya Huff,
Ellen Kushner,
Sharon Lee and Steve Miller,
Chris Moriarty,
Tamora Pierce,
Laura Resnick,
Michelle Sagara (West),
Wen Spencer,
Terry Pratchett,
Sarah Zettel,
and many others.
Most authors will have book signings, readings and/or appear on panels.
Also, three of us from this site are going to be in Boston for the fun. Please drop us a note if you're going too and would like to say hello!