[Previous entry: "Rachel Caine's HEAT STROKE -- page turner (Preeti)"] [Main Index] [Next entry: "SUNSHINE wins Mythopoeic Fantasy Award"]
08/10/2004 Entry: "News from August 2004 Locus"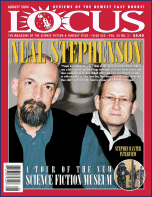 The August 2004 issue of Locus Magazine includes the results of this year's Locus Survey, coverage of the opening of the new SF Museum and Hall of Fame in Seattle, and interviews with writers Neal Stephenson and Stephen Baxter.
Some news:
--Laura Anne Gilman sold YA "Grail Quest" trilogy to Parachute Press.
--Juliet Marillier sold YA novel WILDWOOD DANCING and an untitled second novel to Knopf & Crown Books for Young Readers. Pan Macmillan will publish in Australia.
--Cecilia Dart-Thornton turned in THE IRON TREE, first in "The Crowthistle Chronicles", to Tor.