[Previous entry: "BIO RESCUE by S.L. Viehl--a "different" romance (Linda)"] [Main Index] [Next entry: "I THIRST FOR YOU by Suzan Sizemore -- Irresistible! (Leila)"]
07/11/2004 Entry: "News from July 2004 Locus"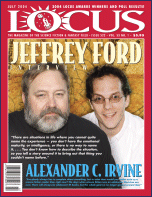 The July 2004 issue of Locus Magazine includes this year's Locus Poll results, info on the various best-of-the-year anthologies, a report from last month's grand opening of the SF Museum and Hall of Fame in Seattle, and a new section devoted to reviews of audiobooks, including one by Jasper Fforde.
Some news:
--Catherine Asaro sold SF novel ALPHA to Baen.
--Patricia Briggs sold WOLFSBANE to Ace. (yay!)
--Susan Wright sold TO SERVE AND TO SUBMIT plus a second erotic fantasy to Roc.
--Jim Butcher turned in DEAD BEAT to Roc. [Next Dresden book?--Preeti]
Replies: 1 Comment
IIRC, yes, Dead Beat is the next Dresden book.

Also, Patty Briggs said on Wolfsbane:

"What we've actually decided to do, since Masques is necessary to the story of Wolfsbane, is to combine the two books into one big book -- with Masques significantly rewritten (Yeah! I get to take out some of the "first time author" stuff and add a few scenes). The resultant book will be due to Ace in February -- so I imagine that it should see print sometime early 2006."
Posted by Katherine @ 07/15/2004 07:44 PM ET
---