[Previous entry: "A SCHOLAR OF MAGICS & DHAMPIR -- In Brief"] [Main Index] [Next entry: "DIME STORE MAGIC and DEAD TO THE WORLD -- Shelley"]
05/13/2004 Entry: "News from May 2004 Locus, Rachel Caine"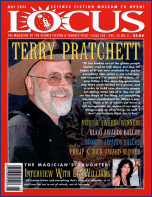 The May 2004 issue of Locus Magazine includes the Hugo and RetroHugo nominations, winners for the Nebula, Phillip K. Dick and James Tiptree Jr. awards, and interviews with writers Terry Pratchett and Liz Williams
Some news:
--Catherine Asaro sold a new "Skolian Empire" novel to Tor.
--S.L. Viehl sold REBEL ICE and CLANSON, "StarDoc" 6 and 7, to Roc.
--New author Cherie Priest sold three "historical-paranormal-investigation-occult-family-sagas"--FOUR AND TWENTY BLACKBIRDS, WINGS TO THE KINGDOM, and a third untitled--to Tor.
--Steve Miller & Sharon Lee resold BALANCE OF TRADE and two untitled "Liaden" novels, originally sold to Meisha Merlin, to Ace.
--Laurell K. Hamilton delivered "Anita Blake" novel INCUBUS DREAMS to Berkley.
--Simon R. Green delivered HEX AND THE CITY, fourth in his "Nightside" series, to Ace.
--Barb Hendee & J.C. Hendee delivered SISTER OF THE DEAD, third in their "Noble Dead" series, to Roc.
And from author Rachel Caine:
"Roc has just agreed to THREE MORE Weather Warden novels! I'm working on Book 4, WINDFALL right now for a turn-in date of October 31, with books 5 and 6 due in 2005."