[Previous entry: "Rachel Caine's ILL WIND -- Shelley's report"] [Main Index] [Next entry: "Bishop's Black Jewels collection"]
02/04/2004 Entry: "News from February 2004 Locus"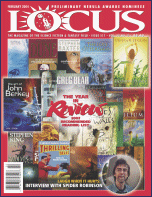 The February 2004 issue of Locus Magazine is the annual Year-in-Review issue, looking back at 2003, with reviewers' recommended reading, summaries of the year in book and magazine publishing, and a composite recommended reading list of books and stories.
Some news:
--James A. Hetley's contemporary fantasy DRAGON'S EYE sold to Ace.
--Mary Jo Putney, writing as M.J. Putney, sold two untitled romantic fantasies in her "Guardians" universe to Del Rey.
--Anne Bishop turned in an untitled fantasy novella collection set in her "Black Jewels Trilogy" universe, to Roc.
--Carol Berg delivered THE SOUL WEAVER, the final installment in her "Bridge of D'Arnath" trilogy, to Ace.
--Karen Traviss turned in GETHES, second in the trilogy begun with CITY OF PEARL, to Eos.
--Alan F. Troop finished THE SEA DRAGON'S DAUGHTER for Roc.
--Rachel Caine turned in CHILL FACTOR, third in her "Weather Warden" series, to Roc.
Replies: 1 Comment
Title change - GETHES (working title) will now be called CROSSING THE LINE. Publication date is likely to be November 2004.
Posted by Karen Traviss @ 02/08/2004 03:13 PM ET
---