[Previous entry: "More TINKER -- Lynn's Review"] [Main Index] [Next entry: "In Brief: Asaro, Armstrong, Spencer"]
01/07/2004 Entry: "News from January 2004 Locus"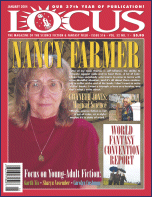 Many of our readers will find the January 2004 Locus especially interesting since it focuses on Young-Adult Fiction. It contains a special section that includes essays by Garth Nix and Sharyn November, a survey by Carolyn Cushman of the best YA books of 2003, and Cushman's "All-Time List" of YA fantasy and SF books.
Some news:
--Michelle West sold BLACK GAUNTLET, first in a new fantasy series, to DAW.
--Julie E. Czerneda sold Species Imperative #3: REGENERATION to DAW.
--Catie Murphy [writing as C.E. Murphy] sold contemporary fantasy trilogy "The Walker Papers" -- URBAN SHAMAN and two untitled sequels -- to Luna.
--New author Stephanie Meyer sold YA vampire romance TWILIGHT and two untitled novels to Little, Brown.
--Roberta Gellis sold science fiction OVERSTARS MAIL to Martin H. Greenberg at Five Star.
--Also, a debut SF novel by Karen Traviss, CITY OF PEARL, has Locus reviewer Gary K. Wolfe finding in it "at times the union of romance with SF that we see in the work of Catherine Asaro or Lois McMaster Bujold."