[Previous entry: "Susan Sizemore's LAWS OF THE BLOOD: HEROES"] [Main Index] [Next entry: "Mercedes Lackey's THE FAIRY GODMOTHER--first look"]
12/14/2003 Entry: "News from December Locus"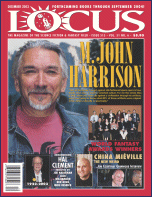 The December 2003 Locus contains interviews with writers M. John Harrison and Jon Courtenay Grimwood, a report from this year's World Fantasy Awards banquet, and forthcoming books listings for the US and Britain, through September 2004.
Some news:
--Jacqueline Carey has moved from Tor to Warner with "The Imriel Trilogy", featuring some characters from her "Kushiel" books.
--Delia Sherman will write urban fantasy THE CHANGELING for Sharyn November at Viking.
--Jane Yolen & Patrick Nielsen Hayden will edit THE YEAR'S BEST YOUNG ADULT SF & FANTASY STORIES, covering 2004, for Tor Teen.
--Sharon Shinn delivered MYSTIC AND RIDER to Ace.
--Dawn Cook delivered fantasy THE DECOY PRINCESS to Ace.
--Wen Spencer delivered DOG WARRIOR to Roc.
--Laura Anne Gilman turned in STAYING DEAD, first in a new urban fantasy trilogy, to Mary-Theresa Hussey at Luna.
Locus is also reporting that Laura Anne Gilman is leaving Roc to pursue her writing career. (As Preeti says -- "Bummer. I suspect it was Gilman's taste in books that made Roc my favorite imprint for finding great new authors.")
Replies: 1 Comment
I had the same reaction as Preeti to Laura Anne Gilman's announcement. Wen Spencer reported that she has been reassigned to an Ace editor; they may be combining Roc and Ace (though keeping the imprints separate for now).
Posted by Lori @ 12/14/2003 11:39 AM ET
---