[Previous entry: "My one tidbit from WFC: news of new romantic SF anthology"] [Main Index] [Next entry: "Wen Spencer's TINKER -- not a dull moment"]
11/13/2003 Entry: "News from November 2003 Locus"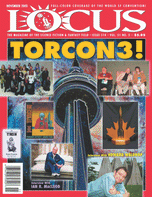 The November 2003 Locus contains reports and photos from Torcon 3, this year's World SF Convention in Toronto
Some news:
- Nina Kiriki Hoffman will write two as-yet-untitled YA books for Sharyn November at Viking via Matt Bialer of Sanford J Greenburger Associates, Inc.
- Tanith Lee's high-seas YA adventure PIRATICA went to Lucia Monfried at Dutton Children's via Andrew Sharp at Hodder Children's, who are doing the UK edition.
- Cecilia Dart-Thornton's new fantasy trilogy "Crowthistle Chronicles" -- THE IRON TREE, THE WELL OF TEARS, and FALLOWBLADE -- went to Claire Eddy at Tor and to Pan Macmillan Australia for the UK, Australia, and New Zealand via Martha Millard.
- Annette Curtis Klause sold historical YA FREAKS [see earlier news item] to Kary Wojtyla at S&S/McElderry Books via Tracey Adams of McIntosh & Otis.
- Laurell K. Hamilton handed in the next "Merry Gentry" novel, SEDUCED BY MOONLIGHT, to Shauna Summers at Ballantine and Simon Taylor at Transworld, and is working on the 12th "Anita Blake, Vampire Hunter" book for Ginjer Buchanan at Ace.
- "Elizabeth Haydon" turned in book one of YA fantasy series "The Journals of Ven Polypheme" to Jonathan Schmidt at Starscape.
- Speaking of YA fantasy series, a big ad for a new one by a Jonathan Stroud was also in this issue. The publisher seems to be hyping this Bartimaeus Trilogy. Some of you may be interested.