[Previous entry: "Kelley Armstrong's STOLEN--Linda's opinion"] [Main Index] [Next entry: "THE FOLK KEEPER - Young Adult with a touch of romance"]
07/02/2003 Entry: "News from July Locus"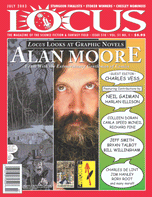 The July 2003 Locus is their second specialty issue -- "Locus Looks at Graphic Novels." The cover has Alan Moore, author of WATCHMEN, and has contributions from people such as Neil Gaiman (SANDMAN), Harlan Ellison, Charles de Lint, and lots more people I didn't recognize but are probably very well known in the field.
Some news:
- Sharon Shinn sold YA novel THE SAFE-KEEPER'S SECRET to Sharyn November at Viking.
- Simon R. Green sold books four, five, and six in his "Nightside" series to Ace.
- Kelley Armstrong sold DIME STORE MAGIC plus two untitled novels to Bantam Spectra; Little Brown will publish in the UK, and Random House in Canada.
- Christie Golden sold three books in new fantasy series "The Final Dance" to Luna. (Was wondering what had happened to her)
- J. Ardian Lee sold SWORD OF THE WHITE ROSE to Ace.
- Australian writer K.J. Bishop sold first novel THE ETCHED CITY to Macmillan. Prime Books published an earlier POD edition in the US.
- Australian author Jennifer Fallon sold new fantasy trilogy WOLFBLADE, WARRIOR, and WARLORD, and fantasy trilogy MEDALON, TREASURE KEEP, and HARSHINI (already published in Australia) to Tor.
- Debut author Tamara Siler Jones's GHOSTS IN THE SNOW -- "a gripping little forensic procedural in a fantasy setting" -- and two untitled books in a new fantasy murder mystery series sold to Bantam Spectra.
- Mary Gentle delivered time-travel/adventure/romance 1610: A SUNDIAL IN A GRAVE, about a spy in France at the time of James I, to Gollancz.
- Katherine Kurtz turned in DERYNI RISING, an updated and revised version of the first "Deryni" novel, to Ace.
- Tanith Lee delivered CAST A BRIGHT SHADOW, first in her "Lionwolf" trilogy, to Tor UK.
- Victoria Strauss turned in THE BURNING LAND, first in a new epic fantasy duology, to Eos.