[Previous entry: "More recents reads--Briggs, Fforde"] [Main Index] [Next entry: "TV Shows and Future Books"]
06/22/2003 Entry: "News from June Locus"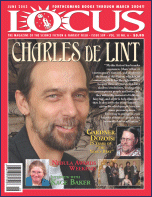 Some news culled from the latest Locus (Thanks Lori):
- "Lian Hearn"'s ACROSS THE NIGHTINGALE FLOOR has been shortlisted for England's 2002 Carnegie Medal. Winners to be announced July 11.
- Marie Jakober will receive the 2002 Michael Shaara Award for Excellence in Civil War Fiction for ONLY CALL US FAITHFUL.
- Laurell K Hamilton sold three new "Merry Gentry" novels to Ballantine.
- Christopher Moore sold four books: A DIRTY JOB; an untitled novel; YOU SUCK: A LOVE STORY, a continuation of BLOODSUCKING FIENDS; and satirical Christmas book THE STUPIDEST ANGEL to Morrow for lots of nice money.
- Ellen Kushner sold FIRST DISGUISE: AN ANTI-ROMANCE, a bridge between SWORDSPOINT and THE FALL OF THE KINGS, and resold THOMAS THE RHYMER to Bantam.
- N. Lee Wood sold feminist SF dystopian novel MASTER OF NONE to Warner Aspect.