[Previous entry: "Shelley's Recent Rereads--Briggs and Bujold"] [Main Index] [Next entry: "Danielle's Recent Reads--Asaro, Hambly"]
06/14/2003 Entry: "2003 Mythopoeic Award Nominees"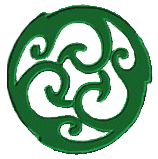 The Mythopoeic Society has announced the nominees for its annual Mythopoeic Fantasy Award, which honors books of fantasy and mythic literature. Several of our favorite SFR authors are represented this year along with some other intriging titles.
ADULT
Ellen Kushner & Delia Sherman, THE FALL OF KINGS
Nina Kiriki Hoffman, A FISTFUL OF SKY
Patricia A.McKillip, OMBRIA IN SHADOW
Ted Chiang, STORIES OF YOUR LIFE AND OTHERS
CHILDREN'S
Neil Gaiman, CORALINE
Vivian Vande Velde, HEIR APPARENT
Nancy Farmer, THE HOUSE OF THE SCORPION
Michael Chabon, SUMMERLAND
Holly Black, TITHE: A Modern Faerie Tale
A list of past years' nominees and winners is also an excellent place to find books you missed!