[Previous entry: "THE TOMORROW LOG--Isabel's take"] [Main Index] [Next entry: "Susan Krinard News"]
05/06/2003 Entry: "Cool vampire/werewolf/romance movie: UNDERWORLD"
Hey, heads up on an intriguing September movie. UNDERWORLD appears to have vampires, werewolves, and romance. From the trailer, the look of the movie appears to be THE MATRIX meets DARK CITY. Very slick, very cool. Very weird to see Kate Beckinsale as a kick-ass action heroine.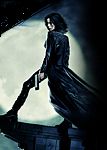 "UNDERWORLD reimagines Vampires as a secretive clan of modern, aristocratic sophisticates whose mortal enemies are the Lycans (werewolves), a shrewd gang of street thugs who prowl the city's underbelly. The balance of power is upset when a beautiful young Vampire and a nascent Lycan--deadly rivals for centuries--fall in love. Len Wiseman directs Kate Beckinsale and Scott Speedman in a fast-paced, modern-day tale of deadly action, ruthless intrigue and forbidden love, all set against the backdrop of an ancient feud between the two tribes in a timeless, Gothic metropolis."
Replies: 2 Comments
what's with kate sleeping with the director and breaking up his marriage?
Posted by mk @ 05/10/2003 08:47 PM ET
---
Who knows? Who cares? I'm more about the art than the artist.
Posted by Preeti @ 05/11/2003 06:05 PM ET
---