[Previous entry: "New Luna editor interviewed"] [Main Index] [Next entry: "ANGELICA by Sharon Shinn--three views"]
04/10/2003 Entry: "April 2003 Locus"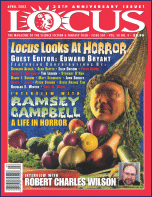 April is the first ever Locus "special supplement" -- Locus Looks At Horror. Along with the usual columns, it has a feature on Horror including recommending reading, an interview of Ramsey Campbell, and contributions from various Horror writers and editors.
Of particular interest to RomSF readers:
- Anne McCaffrey will be making a very rare convention appearance at this year's Dragon*Con. McCaffrey's health and an "extreme sensitivity to let lag" means she is rarely seen outside Ireland.
- Jane Yolen declined an invitation from Mrs. George W. Bush to read to kids at the Easter Egg Roll on the White House lawn due to prior commitments. (You go, Jane!)
- Deanna Durgin will write a Mage Knight novel for WizKids, to be published by Del Rey. Josepha Sherman is also contracted to write a Mage Knight novel.
- Nancy Holder & Nancy Kilpatrick will edit an as-yet-unnamed "Goth" anthology for Roc.